Accessible and Affordable Natural Skincare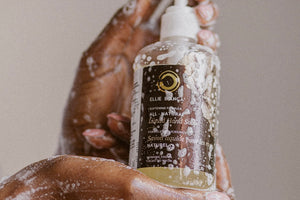 Ellie Bianca cares deeply about the connection between the environment, sustainability, and natural skincare. We aim to provide our clients with accessible and affordable natural skincare products, which play a crucial role in promoting inclusivity, sustainability, and well-being.   
By making our products accessible and affordable as possible, we can ensure that everyone has access to organic skincare solutions that are healthy for their skin and the environment, such as our Liquid Hand Soaps collection. Ellie Bianca is all about family, and we want individuals from diverse backgrounds to come together and benefit from natural beauty products as a community.  
Our all-natural skincare is made from organic, plant-based ingredients that are sustainably sourced and produced. We also put importance on being cruelty-free. Our products have never been tested on animals and we can ensure you that our formulations are completely safe to use. Each one of our products are safe to use on all types of skin and can help heal or treat many different conditions.  
Ellie Bianca's Liquid Hand Soap collection is now being sold at Costco.ca in bundles of 6 for $38.99, featuring our bestselling scents: Australian Sandalwood, Citrus Verbena, Eucalyptus Mint, and Rose & Vanilla. These all-natural soaps will keep the skin soft and supple after every wash, cleansing the skin deeply without stripping it of its natural oils. You can shop our individual soaps for only $9.99. Get access to affordable, clean beauty products today and give your skin the love it deserves! 
Accessible and affordable products also allow individuals to prioritize their health and well-being, which is one of our main objectives at Ellie Bianca. We want you to not only feel good about your skin on the outside but also feel good about your inner beauty - your mind and soul. We want to empower individuals to embrace their strength and natural beauty, giving them the opportunity to take control over their self-care routines and well-being. Feeling confident and comfortable in one's own skin is essential for long-lasting health, and our natural skincare solutions can provide a positive and empowering experience for your skin and soul.  
By making beauty products widely accessible, affordable, and all-natural, we can foster a more conscious and responsible approach to beauty. By working together, we can benefit individuals, communities, and the planet as a whole.  
Join our movement and the Ellie Bianca family today and be Kind to your Skin, Kind to the Earth, and Kind to Women.
Leave a comment
Comments will be approved before showing up.
---
Also in Beauty Blog
When you're on-the-go and want to take care of your skin, it's important to keep your routine simple and efficient. Here are some steps for doing skincare while you travel: