Self-Care and Serenity for Moms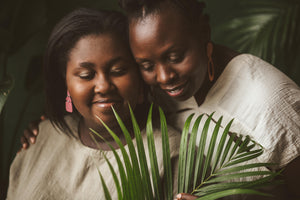 It's still a few days away, but we want to wish you a very Happy Mother's Day! You are so lovely, strong, beautiful, caring, capable, and powerful. At Ellie Bianca, we believe mothers should be celebrated all day and every day, all year long. You truly are superheroes, and although it may seem impossible sometimes – you deserve to rest. At Ellie Bianca, we want to help you do just that. It is finally time to sit back, relax, and practice some self-care.
The experience of being a mom is so beautiful. For nine months a mother carries her child in her belly, providing the baby with love, care, and nutrition. You work so hard a to ensure your family is loved and provided for, and you spend lots of time making precious memories you can cherish forever, but it can also be tiring. It takes a lot of energy and strength to create a baby, take care of children and raise them.
You deserve the same amount of love you give to everyone else in your life. You deserve to take a moment for yourself – to breathe, relax, and be in tune with your mind, body, and soul. It is so important to practice self-care and self-love for your mental and physical health, as well as for soft and glowing skin.
For mothers who do it all with grace, it can be so challenging to take out time for yourself and we know you must be exhausted, which is why Ellie Bianca has curated a special self-care collection just for you. We want you to feel good about your skin, and to feel refreshed and relaxed after a long day of being mom. Our different bundles will provide you with a sense of serenity and peace. One of our bundles, "For the Mom Who Slays" includes Lavender Skin Oil, Bath Salt, and Naked Face Oil which are 100% natural, cruelty-free, non-GMO, and sustainably sourced. They include properties which will protect your skin from the sun, are hydrating, softening, renewing, and refreshing for the skin.
Our Mother's Day collection will help you enjoy the very well-deserved break that you need. You will feel more relaxed, enjoy a moment to yourself and be ready to Slay the Day, as you always do. We encourage you to run a nice lavender bath, massage your body with nourishing oils, and treat yourself to the sensation of peace and serenity you deserve.
Steps for Application
Massage your desired amount onto clean, slightly damp skin (face and/or entire body)
Apply to the ends of hair for hydration, shine, and protection
You can also use on cuticles
Massage your desired amount directly onto clean, slightly damp skin (face and/or entire body)
Add two tablespoons to running bath water
Enjoy your bath and relax


Benefits to Skin 
Lavender: Helps to naturally relieve stress, body aches, muscle tension, and restless sleep. Replenishes your body's minerals after intense physical activity, and is therapeutic for itchy, irritated, and inflamed skin.
Naked Oil: Scent-free, ideal for sensitive skin, gentle and effective for all types of skin (normal, oily, and dry), and easily absorbs for long-lasting hydration.
 Your skin will stay radiant and supple, your muscles and mind will both feel relaxed, giving you the opportunity to take a restful beauty sleep. Taking care of yourself – your mind, body, and soul – will help you stay in good health and set the foundation to Slay the Day. You deserve this, mom. Take a break with us.
 
Other Self-Care Methods
We recognize that skincare is not the only way to take care of yourself as a mom, although it may be one of the best things you can do for yourself. As a mother, finding time to do things that YOU enjoy may be overshadowed by the interests and passions of your children. There are many small ways in which you can practice self-care and take that moment to breathe during your busy day:
Meditate
Exercise or go for a walk
Treat Yourself (shopping, ice cream, etc.) – you deserve it!
Watch your favourite movie or TV show
Go out with friends/have a girls' day
Read a book you enjoy
Tap into your support system and don't be afraid to ask for help!
Enjoy a nourishing meal and keep yourself hydrated
Visit the salon and get your hair or nails done
Indulge in a hobby you really enjoy
We hope that you can make the most out of your self-care time and allow your body, skin, and mind to heal, recover, and take rest from all the hard work you do. Ellie Bianca loves you, mom. You are an amazing woman with so much beauty, talent, and strength. We encourage you and hope that we have inspired you to embrace your natural beauty with all its beautiful flaws – stretch marks, acne, skin conditions, and your shape and size. You represent REAL, NATURAL beauty. The beauty of a mother. The beauty of being loving and kind. The beauty of helping others. The beauty of empowering women. You inspire us to keep doing what we do. Thank you for being you, Mom.
"There's nothing more special than Mama. Happy Mother's Day."  - Evelyne Nyairo, Founder, Ellie Bianca
Team Ellie Bianca <3
Leave a comment
Comments will be approved before showing up.
---
Also in Beauty Blog
When you're on-the-go and want to take care of your skin, it's important to keep your routine simple and efficient. Here are some steps for doing skincare while you travel: