Transitioning into winter with your skincare routine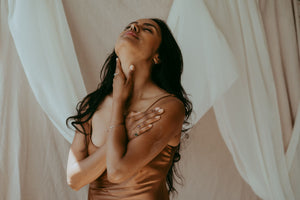 It's Winter and everything around us is changing. This seasonal transition is the perfect time to not only switch up our habits and routines, but also our skin care routines. 
A summer to fall to winter skincare routine is a must in order to prepare your skin for the upcoming season. The transition from summer to fall then into winter means that we will be subjected to colder and drier weather, which can lead to dry skin. In addition, the lack of sunlight can lead to dull skin, which is why it's necessary to take extra care of your skin during this time of year. 
To combat this, here is a suggested natural skincare routine using Ellie Bianca products that will keep your skin healthy and glowing all season long.
Step 1: Cleanse with the Naked Face Oil 
The Naked Face Oil is an exceptional product because of its versatility within the changing seasons. Formulated with a unique blend of shea oil, jojoba oil and borage oil, Naked Face Oil is gentle and effective for oily, dry and sensitive skin types. Its scent-free properties make it gentle enough to use on children as well. Just apply 1-2 drops of the oil onto your hands or directly onto your skin and use water to rinse or a wet cloth to remove the oil. 
Step 2: Follow up with the Hydrating Face Toner 
Hyaluronic acid is a hero ingredient in a transitional skincare routine which is why our Hydrating Face Toner is made with Hyaluronic Acid and Niacinamide. Our toner helps alleviate dry skin, reducing the appearance of fine lines and wrinkles. With white willow extract cleansing pores, removing dead skin cells and fighting off oxidation, our toner is a must have in your fall routines. Just spray directly onto skin and you're on your way to glowing skin. 
Step 3: Glow with our Natural Radiance Serum 
A good serum is crucial to the success of a skincare routine which is why using our Natural Radiance Serum will boost your skin routine this Fall. Radiance Serum is perfect for all skin types, especially dry or mature. It features plant-based squalane that nourishes and locks in essential moisture. Its an excellent option for women facing menopause, as an all-natural solution to help them maintain their radiance! Apply 2-4 drops to freshly cleansed skin morning and night. Follow with the Ellie Bianca Skin Oil of your choosing!
Step 4: Moisturize with Frankincense & Myrrh Face Oil 
Frankincense & Myrrh Face Oil is a Fall & Winter staple product here at Ellie Bianca. This perfectly balanced blend of oils reduces stress and anxiety while hydrating and reducing itchy, flaky and dry skin. The perfect product to keep the skin radiant and glowing all season long. Massage desired amount onto clean, slightly damp skin. Perfect as a daily face moisturizer and for use on the entire body. Apply to ends of hair for hydration, shine and protection or use on cuticles. 
Step 5: Protect with an SPF/ Sunscreen 
Protecting our skin with an SPF is so important to decrease the effects of harmful UV radiation coming from the Sun. Even on cloudy days, wearing SPF daily can reduce the risk of sunburns, reduce inflammation and generally protect the skin against pollutants. One of our favorite sunscreens is the Plum Hyaluronic Primer SPF 30 100% mineral activated by FITGLOW Beauty. Apply generously 15 minutes prior to sun exposure. Re-apply every 2 hours or after swimming, towel drying, perspiring heavily or washing. 
The beauty of Fall and Winter is that it's the best time to wind down and recharge. With our natural and organic beauty products, you can finally find time to give your skin some rest as well. 
Leave a comment
Comments will be approved before showing up.
---
Also in Beauty Blog
When you're on-the-go and want to take care of your skin, it's important to keep your routine simple and efficient. Here are some steps for doing skincare while you travel: